Double D Manufacturing and the Rome Plow Company have merged to bring you the largest line of construction and agricultural implements of any manufacturer in the industry today.
Here are some of the product lines that are covered by the two companies:
Gravity Dump and Ejection Dirt Pans
Box Blade Scrapers
Land Levelers
Laser Levelers
Ejection Scrapers
Construction Disc Harrows
Agricultural Disc Harrows
Smooth Drum Rollers
Sheep's Foot Rollers
Subsoilers
Land Clearing Equipment
Motor Grader Slopers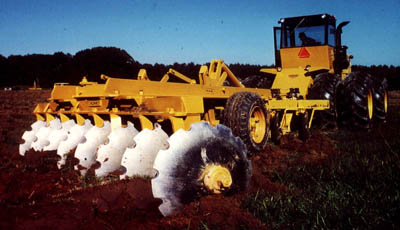 (Rome TRCW Construction Disc Harrow)
Rome products are known world wide for their strength and durability. The strength and quality of the Rome products won't change. The New Rome Plow will continue to offer all of the old tried and true products that have made Rome a world wide brand. For more information on the Rome products please visit the website at:
You may also call us at 770-748-4450 for more information, or email us at
In most cases we will respond to you in 30 minutes or less.
We also welcome any feedback about the Rome products or the Double D and Rome merger.