SS Series Leveling Scrapers
The SS Series is designed for use with any model of Skid Steer or Trax Steer. It comes standard with reversible and replaceable side cutter blades, removable grader blades, two Prince hydraulic cylinders, and GPS or laser mounting brackets. Every model of SS Series is designed to perform rough and final grading with or without a laser system.
Double D is an authorized distributor for Apache Laser Systems. The SS Series can be purchased directly from the factory with GPS or laser equipment pre-installed. Please ask your salesman about the available electronic grading systems options.
The SS Series is available in two different models described below.
MODEL # 1: Oscillating Multi-Grade
The Oscillating Multi-Grade comes equipped with rear stabilizing wheels. It is designed to "walk" with the contours of the ground by oscillating left and right a full 180 degrees. To utilize the full potential of the oscillating multi-grade a duel mast laser system or a GPS system must be used. This allows the operator to grade all the contours of the ground without changing the setup of the machine. The hydraulics on the box blade will be automatically controlled by the laser system. When the system needs to tilt left or right the laser will engage the hydraulics to accommodate the slope.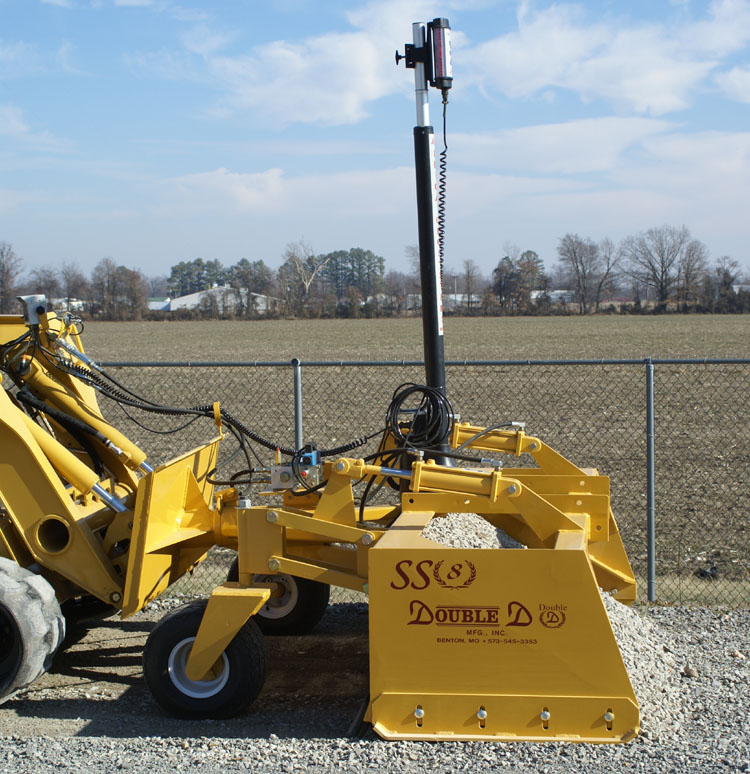 MODEL # 2: Compacting Leveler
The Compacting Leveler comes equipped with a rear stabilizing roller. It is designed to compact the ground behind the box blade. The roller on this unit can also be used by itself to firm up the ground and compact the soil. The Compacting Leveler is also designed to work with a single or duel mast laser system. This unit is perfect for anyone laying base material.
SS Series Series Specs
● The SS Series is manufactured using a minimum of 1/4 inch thick steel.
● The moldboard is made from 3/8 of an inch thick rolled steel plate.
● The side cutter blades are adjustable and reversible for maximum wear life.
● The adjustable side cutters are made from 3/8 inch thick AR steel plate.
● 3000 PSI hydraulic cylinders to work with every model of skid steer or trax steer.
● Completely manufactured with Grade 8 Hex bolts, lock washers, and hex nuts.
● The rear tilting arbor is made from DOM tubing to provide the most accurate and smooth pivoting possible.
● Works with every manufacturers duel or single mast GPS or laser system.
SS SERIES PHOTO GALLERY
(Click on the photos to view a larger photo)
CLICK HERE TO SEE A VIDEO OF THE COMPACTING LEVELER LAYING BASE ROCK
CLICK HERE TO SEE A VIDEO OF THE SS SERIES REMOVING SNOW ON A PARKING LOT